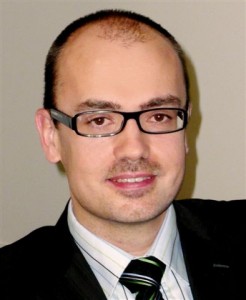 My name is Eric Marin. I started some 20 years ago in the Information Technology industry, and have held several management positions while graduating from an Executive MBA in France a few years ago. I do work today as a manager and field CTO (Chief Technology Officer) in a large multinational IT company. A very exciting position in which I have the opportunity to interact with great people, both inside and outside the company.
More recently, I trained myself in Non Violent Communication, and also became a Professional Coach.
As I have developed myself over the years (and this journey is far from over !), I came to realize how much our self-limiting beliefs and patterns, personal self-sabotage strategies and high tyrannical expectations of ourselves tend to separate ourselves further from our full potential.
I started to realize also how I (and we, human beings) very often conditioned happiness and success to external factors, which by definition are out of our control. 
That lack of personal empowerment sadly creates several collateral damages in our lives. And at work in particular, consequences can be multiple : unauthentic relationships, strategies and responses developed in autopilot mode, low engagement, stifled creativity, unchallenged status-quo, untapped potential, insufficient innovation, …
Ecological Leadership
Coaching can help individuals to clarify their personal vision and purpose. That is the first step to what I call «Ecological Leadership».
My job as CTO today is about developing a more visionary approach for our customers to better adopt and use information technologies.
Equally, as coach and manager, I strongly believe we need to take a similarly visionary approach to management and leadership:
What kind of leadership do we need to reach new levels of performance, which is ecological and sustainable for all parties?
What can we do to help others feel more motivated and engaged in what they do at work?
What new type of communication do we need to develop?
How can we contribute to our colleagues' full potential development and growth?
How can we lead with both the head and the heart?
Let's explore it together through this website !