"Ecological Leadership" Book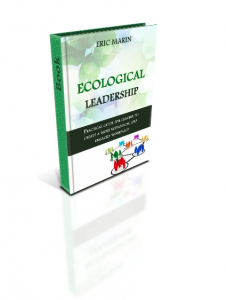 What can we do to help others feel more motivated and engaged in what they do at work?


What new type of communication do we need to develop?


How can we contribute to our colleagues' full potential development and growth?


How can we lead from both our head and our heart?
Questions above call for a different type of leadership in the decade to come, which I define as "ecological leadership".
The book is intended for all leaders and managers as well as individuals who seek to have a positive impact in their workplace.
By cultivating and developing values and behaviors that are ecological for themselves as well as for the people around them.
It is also a very practical guide with many examples, exercises and tools you will be able to reuse in work situations.
Paperback edition


Click on the Icon above
Also on  Amazon.com, .uk, .de, .fr, …

Amazon Kindle Ebook (.com, .uk, .de, .fr, …)
About the Author
I started 20 years ago in the Information Technology industry, and has held several management positions while graduating from an Executive MBA. Today I work in a large multinational IT company.
In the recent years, I trained myself in Nonviolent Communication and also became a Professional Coach.
In parallel, I explored many personal development areas such as Neuro-Linguistic Programming (NLP), Transactional analysis, Meditation, Yoga, Eastern philosophies…
I now seek to write on "ecological leadership" through blogging and books to inspire readers to make their workplaces more ecological and engaged.